Lately, you've probably heard a little buzz around this thing called Bitcoin and wondered, "huh, what in the world is this wild digital fad anyways?"
A new collectible?
Some type of digital money that's made up?
Technical jargon for some part of the interwebs?
It's time we unpack this thing to find out what it really is now that it is beginning to appear in our news headlines almost daily. In fact, Bitcoin has begun to explode with so much popularity, that some people are even taking out mortgages to get their hands on it!
*Disclaimer: This is not intended to be a deep dive into the technical infrastructure of Bitcoin and blockchain, but rather a simple and portable explanation for the crypto-curious. 
To prime our thinking a little for the sake of understanding Bitcoin, let's do a quick refresher on the concept of money.
Money = man-made system that derives its value from a common trust that it's worth something and can be exchanged for goods and/or services.
Or, more simply put, let's say Hogarth offered Geraldine $100 in exchange for a table. The only reason that Geraldine accepts the $100 is because she knows that, at some point in the future, she will be able to exchange that $100 for a good or service with anyone else, because everyone else knows and agrees that $100 is worth a certain level of goods or services.
Now, this does not take into account the influence of supply and demand to determine what exactly $100 should be exchanged for, but to better understand Bitcoin we need only to focus on the fact that:
Money is worth something only because everyone agrees that it is worth something.
Profound. I know.
(Note: for anyone that is slightly hesitant to agree with this statement due to a fuzzy notion of the gold standard, you can find a little refresher here) The fact is, this truth is applied to everything that has value (read ancient proverb "something is worth only how much somebody is willing to pay for it").
With this simple thought in mind, let's move on to Bitcoin.



At an intergalactically-high level, Bitcoin is simply digital currency. Now Remember!, what gives value to currency is a trust among all of its users that it can be exchanged for something.
However, the difference with Bitcoin is, nobody is in charge of it.
Ahem.
Yes, this is the epicenter of the craze around this new currency:
No single person, group, or government is in control of Bitcoin.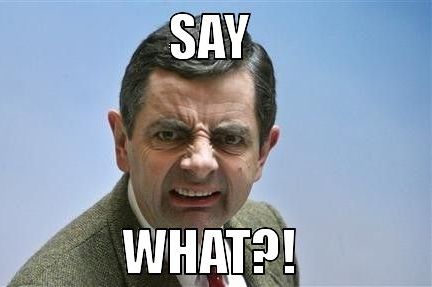 Why does it matter that nobody is in control of Bitcoin?
Well, if there is no central authority that controls Bitcoin (in other words, if it is – ahem – decentralized), then everyone in every country can, in theory, agree to use it as a universal currency simply because it is not printed out as legal tender by any one country. Even more important is the fact that the amount of Bitcoin that exists has been pre-determined and is thus not susceptible to things like inflation, but we will get into that later.
Ok then, so how does Bitcoin work (or even exist "digitally")?
Simply put, every Bitcoin is represented as a long, unique ID (think "lkljiw4′;l43r-03289y734uih4r98y43") rather than a fancy piece of paper that we use as cash today. Similarly, every person that owns a Bitcoin is represented as another, different unique ID (think Gertrude is represented as "938734539huihi:$KARJ").
Each Bitcoin's unique ID and respective Bitcoin Owner's  unique ID is stored on a digital table on a computer that says, for example:
"Bitcoin lkljiw4′;l43r-03289y734uih4r98y43 belongs to 938734539huihi:$KARJ"
This is an example of a record that says Gertrude owns this particular Bitcoin. In reality, there are millions and millions of more records on this table that shows who else owns the other Bitcoins.
The beauty of Bitcoin is that this table of records of Bitcoin owners is stored not just on one person's computer, but hundreds of thousands of other computers! Why is this important? Because, looking at the example above, nobody can claim that Gertrude's Bitcoin belongs to them because the same table of records is stored on endless other computers around the world that prove it really belongs to Gertrude.



So why would anyone want to store these millions of records on their computer?
Great question. To answer, let's say Gertrude decides to giver her Bitcoin to Archibald. The way she "gives" her Bitcoin to him is by submitting a request to all the computers to update their records to say,
"Bitcoin lkljiw4′;l43r-03289y734uih4r98y43 now belongs to lwejov87y83y78398 (Archibald)"
Once the computers update their records accordingly by de-coding the unique ID of Gertrude's Bitcoin and re-coding it to belong to Archibald's unique ID, then that computer is rewarded with…………………you guessed it………….a Bitcoin! (this is the essence of the model on which Bitcoin works, which is called blockchain).
Ok…….I'm still not catching why this is important
With this system, if people begin to agree to exchange goods or services for Bitcoin, then it starts to become valuable; simply because someone with a Bitcoin could use it for some good or service that they desire. Once Bitcoin starts to have value, then people are incentivized to do this record-keeping on their computer so they can get more Bitcoin and then get more goods and services!
And, since this system is simply built on a table of records that is copied and stored on endless computers all over the world, it can be exchanged with…….anybody throughout the entire world! And if more people throughout the entire world begin to accept Bitcoin in exchange for goods or services, then you start to have something that has NEVER existed before:
a global currency
The implications of a global, decentralized currency are unlimited. No currency exchange rates, no inflation or deflation due to printing or taking away cash, immediate international money transfers, and WAY more benefits than I have time to write here.
Yes, but, is it safe?
For the sake of brevity, yes – it is perhaps on of the most safe financial transaction methods possible. This is where the long, unique ID for each Bitcoin and each Bitcoin owner comes into play. The de-coding that the computers have to do to identify, for example, "lwejov87y83y78398″ as Archibald involves rigorous mathematical algorithms that make sense of these meaningless-looking letters and numbers. That said, this "identity coding" paired with the fact that this record is copied on hundreds of thousands of computers, this model is much more difficult for hackers to break into than the databases of one bank or company.
Hmm. Ok. So how do I get Bitcoin?
Recall our first hint at "something is worth only how much somebody is willing to pay for it". So, 1 Bitcoin (remember, long ID like lelkja930rr328j32) is worth what somebody is willing to pay for it. In this case, it sits currently just above $17,000 for 1 Bitcoin, that you can buy through any number of websites or apps that exchange money for Bitcoins (Google search "bitcoin exchange"). And, for security reasons that I explained above but don't have the time to further delve into, put your Bitcoin (read unique ID) on one of these devices that don't connect to the internet and aren't susceptible to hackers (Ledger Nano S Cryptocurrency Hardware Wallet
). You'll thank me later.
Overall
We have only skimmed the surface of how Bitcoin works and why that makes it valuable, but this level of understanding is the very core of why there is supersonically-explosive hype around Bitcoin and cryptocurrencies (other digital currencies like Bitcoin). If this sparks a little excitement for you too, please trade responsibly.
The future of currency is coming. Do you agree? Comment below.